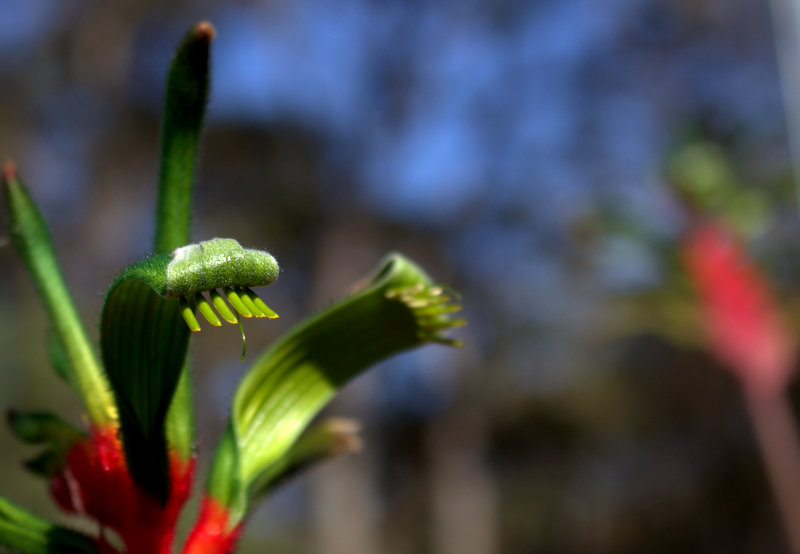 It's late spring in Western Australia and that makes it difficult to post anything that isn't botanical!  So many WA native plants are flowering profusely and I can't look through the window without seeing new blooms appearing nearly every day: this morning, blue sun orchids. Among the most vivid colours are the boldly-coloured 'red and green' kangaroo paws that grow naturally only in WA. As each individual flower on a stem dies off and dries out, it moves out and down to create space for birds to reach the next flower to open, a perfect perching place for the Western spinebills who can't resist its nectar as they play their part in the pollination process.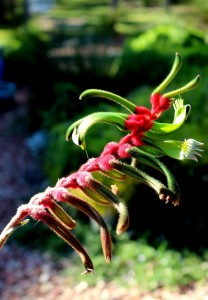 These plants caught Georgiana Molloy's eye too, when she was collecting for Captain James Mangles at the Vasse (Busselton) during the late spring and early summer of 1839.
Like so many plants, Anigozanthos manglesii has its own story to tell…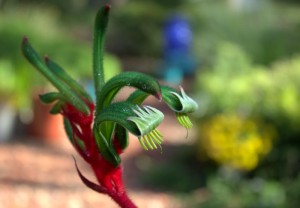 Called kurulbrang in Noongar language, the plant has below-ground rhizomes traditionally eaten before the flowers appear, when they are of high nutritional value. Georgiana called them 'the red roots of the natives.' The genus was first given its European name, Anigozanthos, in 1792 by the French botanist Jacques-Julien Houtou de la Billadière, when he collected specimens during a voyage to Australia's southwest. His botanical collection (which just missed being confiscated by the British as spoils of war) is held today in the Museum of Florence. (1)
The botanical naming of the species, A. manglesii, is closely associated with early European colonisation of southwest WA and also with Georgiana's own story. There's no doubt that the name honoured the Mangles family but a search through books and reference sources offers several possibilities for the specifics. Ellen Mangles married James Stirling, the first Lieutenant Governor of the Swan River Colony. When he was knighted in 1832 they became the more familiar sounding Lady Ellen and Sir James Stirling. It was a family link that first connected Georgiana with Ellen Stirling's cousin Captain James Mangles, for whom Georgiana collected botanical specimens during the last six years of her life. Various sources claim that the red and green kangaroo paw was named for the Mangles family in general, for Ellen Mangles' father James and his brother John or, more commonly, for Georgiana's correspondent Captain James Mangles who was a well-known and very successful collector as well as a traveller and author. I think the evidence strongly supports the species having been named for his brother, Robert Mangles, who was less well-known in Australia at that time but was a famous man in the 19th century British world of horticulture and botany.
Known for some time as the 'Mangles Kangaroo Paw' the plant was first described using its species name in 1834 by botanist David Don who was librarian to the Linnaean Society. In 1835 it was referenced with its new botanical name in Sweet's popular monthly publication, 'The British Flower Garden' edited by Don, but the subtitle beneath 'Anigozanthos manglesii' was 'Mr Mangles's Anigozanthos'. The text goes on to describe how Robert Mangles was the first to successfully grow on a cultivated plant in his own gardens, having received a specimen and seeds from his brother-in-law, James Stirling. Robert was a wealthy man who spent a fortune on his elegant home and gardens at Whitmore Lodge in Berkshire, and growing new species sourced from all over the world. His horticultural successes were often the subject of articles in gardening magazines and his gardeners were highly esteemed.
'This singularly beautiful species of Anigozanthos was raised in the garden at Whitmore Lodge, Berks., the seat of Robert Mangles, Esq. from seeds brought from Swan River by Sir James Stirling, the enterprising governor of that colony, by whom they had been presented to Mr. Mangles.'
'We are indebted to Mr Donald Mackay, Mr Mangles' intelligent gardener, for the following particulars relative to its culture.' (2)
Anigozanthos manglesii officially became the floral state emblem of WA in 1960 and when it was included in the WA State Coat of Arms, the ancient language of 'blazon' for the armorial bearings created a direct historical link to the medieval world of English heraldry: 'Crest on a Wreath Or and Sable The Royal Crown between two Kangaroo Paw (Anigoxanthos Manglesii) flowers slipped proper'. (3)
(1) 'La Billardière, Jacques-Julien Houtou de (1755–1834)', Australian Dictionary of Biography, National Centre of Biography, Australian National University, http://adb.anu.edu.au/biography/la-billardiere-jacques-julien-houtou-de-2316/text3007, published first in hardcopy 1967, accessed online 22 October 2015
(2) The British Flower Garden, (series the Second): Containing Coloured Figures & Descriptions of the Most Ornamental and Curious Hardy Flowering Plants; Or Those that are Somewhat Tender  Robert Sweet J. Ridgway 1835
(3) Or = gold, Sable = black , Slipped – showing the  stem,  Proper – appearance as in nature
https://georgianamolloy.com/gm/wp-content/uploads/2015/10/IMG_0492.jpg
554
800
Bernice Barry
Bernice Barry
2015-10-22 16:31:43
2018-10-24 12:59:58
A botanical story