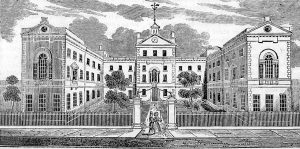 A NEW VIDEO CLIP The Bussell Family
Charles and William
The way that things past and present continue to connect is a never-ending source of motivation and inspiration during the long-winded task of research.
On days like today, when one small, new thing leads to another small thing that clicks neatly into place with something older and then opens a door to something quite new, all the  hours feel worthwhile. The web of historical information is wide and it can be difficult (impossible, often) to trace the links between one published source and another, to validate quoted sources or to distinguish rigorous, secure research evidence from shaky supposition and weak-rooted assumption. That's the main reason why I try to share information I find as openly as possible so that other researchers can scrutinise my work, question it, improve on it, add to it and build on it.
Today, I was searching for one particular piece of information. After a few hours of online meanderings, I found it. It was almost accidental because I wasn't expecting it to be archived where I eventually located it. It turned out to be something important because it led me directly to something new. It also confirmed, without any doubt, what I'd been wondering about for some time.
In 2018, during a lecture for ERGA, I shared some of my research into the lives of the Augusta settlers before they emigrated to western Australia. I'd been asked to talk  about the  the settlers themselves rather than the botany or the environment so the connecting theme of my talk was the baggage the colonists brought with them, the personal 'luggage' that wasn't in their trunks and boxes. I talked about the values and attitudes that disembarked with them and the lifetimes of social history that had deeply embedded those views and behaviours for each of them. For the Bussell family, their poverty was significant. In 1820 it was expressed publicly and clearly in the advertisements asking for charitable support after the death of their father, the Reverend William Marchant Bussell in 1820, describing their 'state of almost entire destitution' and the 'deep distress of the afflicted family' because with 'so large a family, it was nearly impossible that any thing could be saved for their future exigencies.'
As I finished the section on the Bussell family, I referred to the apprenticeship that Charles Bussell had signed up for, for five years, which he must've abandoned when he left Britain on board the ship 'Warrior' in 1829 with his brothers. I also mentioned his stammer and the anxiety he said it caused him during his first years here among the settler community. I haven't shared this clip from the talk before.
HERE it is, on my YouTube channel.
I didn't know any other details about Charles and how he managed his stammer until today, when I found a reference to treatment he received in 1828. At that time, he was living with his mother, Frances Louisa Bussell, in Winchester.
Mrs Bussell arranged for Charles to receive treatment from a man called Thomas Perkins Lowman Hunt of Brighton, previously of Winchester, a visiting specialist in 'Defects of speech whether organic, natural or acquired'. Still relatively new to the field and not recognised by many of his fellow practitioners because he did not have a medical degree, he  advocated a new and and distinct style of treatment that took account of each patient's specific, individual requirements.  Hunt claimed to have provided a complete 'cure' for five hundred patients who stammered (including C. Bussell, Winchester) and assured his clients their problems would never return.
But that information led me onward. The next named 'satisfied patient' in Hunt's list was 'W. Bussell, Middlesex Hospital, London'. I try hard never to jump to conclusions, so I spent the afternoon investigating any evidence I could find that might show this was, indeed, Charles' elder brother, William Bussell.
I knew that William was training in the medical profession at that time and letters showed that he was spending time in London. Was this Mrs Bussell's son, William Marchant Bussell junior, and was he training at the Middlesex Hospital in 1828?
The Middlesex Hospital (shown in this image) was a training hospital for surgeons. William was married in London on March 12th 1833. At his daughter's baptism in June 1833, also in London, he was recorded as a surgeon. I searched again, more carefully, and found a 'W. Bussell' listed in 1828 as a tax payer in a rented house in the parish of St Anne, Westminster (Soho). The Middlesex Hospital was a few minutes' walk away from that house, on the other side of Oxford Street. Those possibilities were enough to convince me personally that William, like this brother Charles, was treated for a stammer, but it wasn't enough to cite as secure historical evidence.
Then I found another advertisement, placed by the same person, a few weeks later. This time, Mr Hunt had included  letters from satisfied clients.
Sir, I cannot allow you to leave Winchester unaccompanied by some little testimony to you, for the benefit my two Sons have derived from your instructions.
You must accept our best thanks, and at the same time, our sanction to make what use you please of us with respect to reference. I shall at all times be happy to attend to any application, either personal or by letter; and I sincerely wish, that all future cases which may come under your care, may be attended with equal success.
I am, Sir,
Your obliged and sincere friend,
F L Bussell
Winchester March 21st 1828
So Frances Louisa Bussell arranged for two of her sons to receive treatment for a stammer in 1828, Charles and William. The cure was not as complete as Hunt claimed it would be, as we know from Charles' own writing.
We cannot know how effectively the treatment continued in the long term for William. At the last minute, he changed his plans to come with his siblings to Western Australia and John Garret Bussell, his elder brother, gave up his own training for the clergy in order to take William's place. William died in 1834. He was twenty-six.
Image: The Middlesex Hospital
Wikimedia Commons (Wellcome Library)