Leaving home (south of Margaret River WA) before dawn during the biggest storm of the year so far was 'interesting' and it was a six-hour drive to the small country town of York but I'm so glad I was able to make that journey to join the River Conservation Society on a wild and wintery Saturday morning to talk about the life of Georgiana Molloy.
I've never visited the region before and, even in the rain, I was blown away by the diversity of the bush around me through the windows of the car, trees I've never seen before (including Salmon gums glowing terracotta in the stormy light) and an amazing landscape of exposed granite that I knew must be the hiding place for wonderful orchids that would be quite new to me. Within seconds of parking in town, I found myself in a wonderful bookshop, The Book Nook, followed by a cup of good coffee and a large slice of cake at The Mill cafe.  York is one of the oldest towns in WA and I had planned to visit the grave of Richard Goldsmith Meares, who had close connections with both John and Georgiana Molloy, but the rain meant a change of plans. Another time!
We received the warmest possible welcome with afternoon tea hosted by the Avon River Conservation Society in true country style with both tea and home-made wine as well as home-made cakes, and then a comfortable night at Hope Farm, a stunning heritage homestead on the edge of town with views over paddocks and sandalwood trees. Mike and I will be back there for a longer visit as soon as we can. A blissful retreat, even in the wintery weather! Thanks, Mike and Jo, for a fabulous breakfast and the biggest log fire I've ever seen.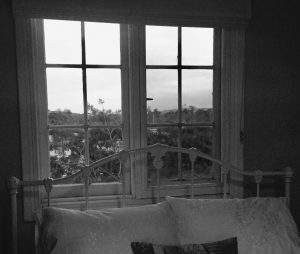 On Saturday morning, it was such an honour to be introduced by Dr Neville Marchant and difficult to get myself out of fan-girl mode in time to stand up and do my own talk. I'm only a beginner, a real early-learner in the field of botany, and it's always a huge privilege to listen to an expert, particularly one who's also an entertaining and knowledgeable public speaker. I would have made that long journey just to listen to Neville talking about the history of botanical collecting in WA.
I talked about the life of Georgiana Molloy and her work but it was also a welcome opportunity to share some of the new research I've been doing since the book was published by Pan Macmillan in 2016, particularly new findings from Georgiana's personal writing. We ended the morning with a bit of a cry and some singing which felt just right among friends. Nothing like a Scottish accent and a folk song to bring the tears!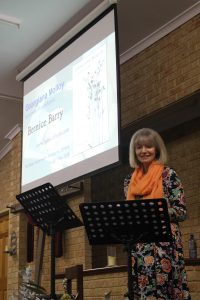 We travelled home with a bouquet of native flowers that smelled so strongly in the car that the whole journey was like a walk in the bush after rain.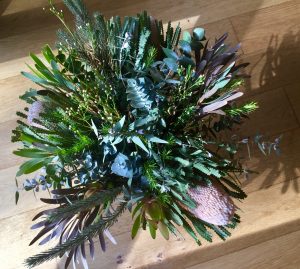 Thanks so much to Audrey Sole who invited me on behalf of the RCS and a huge thank you also to the many volunteers and sponsors who made the event possible. A special vote of thanks to everyone who made the journey on such a wet and windy day, including travellers from Perth, and the ever-enthusiastic contingent from the Kings Park Guides who have supported my work so enthusiastically from the very beginning. It was heart-warming to see some familiar faces once again and catch up with people who've attended my talks over the past three years.
WA native wildflowers in profusion
A big thank you also to the CWA and York Wildflower Societies for the catering, Hope Farm Guesthouse and York Society for their support.  Thanks to Volunteering WA and Lottery West for supporting this event and to Viva Books in Busselton.
You can find out more about the fantastic conservation work of the River Conservation Society at their website, here.
https://georgianamolloy.com/gm/wp-content/uploads/2018/05/1-IMG_4666.jpg
2224
2224
Bernice Barry
Bernice Barry
2018-05-31 14:53:08
2018-10-24 12:59:54
Sharing stories