Most of the buildings that still stand in the Carlisle Cathedral precinct would have been familiar to young Georgiana Kennedy in the early 1800s. Like her own family history, they represent many generations who went before. If you visit today, you can walk where she walked and see the same ruins of the original priory as well as the remaining section of the church nave where she was baptised in 1805. At that time it served as the parish church of St Mary, or 'St Marie's'.
The first buildings were started in 1122 when Henry I was king. The Augustinian Priory of St Mary was home to a community of Augustinian Canons Regular. These men were not monks although their lives were austere; their role was to be among the people. The church was begun by Athelwold, the first prior, in 1133 and its status was raised to 'Cathedral'. The wooden barrel-vault roof over the choir and the complex tracery of the east window were completed by the middle of the 14th century. This window is the largest of its kind in England and still contains original medieval glass. The choir stalls were carved in the 15th century (complete with their black oak misericords) and the Gatehouse is still a dominating presence at the junction of Paternoster Row and Abbey Street where Georgiana was born. It was built in 1528 from local red sandstone.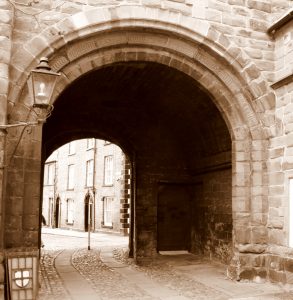 If you look at the Gatehouse today, the battlements have been removed – but those huge wooden doors are the 16th century originals. Georgiana would have been carried through them on the day of her baptism in 1805, and her mother would have walked through them on her wedding day in 1800. Generations of her Dalton and Graham ancestors were buried on the other side of those great doors at the top end of Abbey Street. When Georgiana's baby sister died she was buried in the family vault of the cathedral and so was her grandmother, in 1814.
https://georgianamolloy.com/gm/wp-content/uploads/2016/05/GeorgianaMolloy1.jpg.jpg
677
1024
Bernice Barry
Bernice Barry
2016-05-12 13:13:09
2018-10-24 12:59:57
Where Georgiana walked