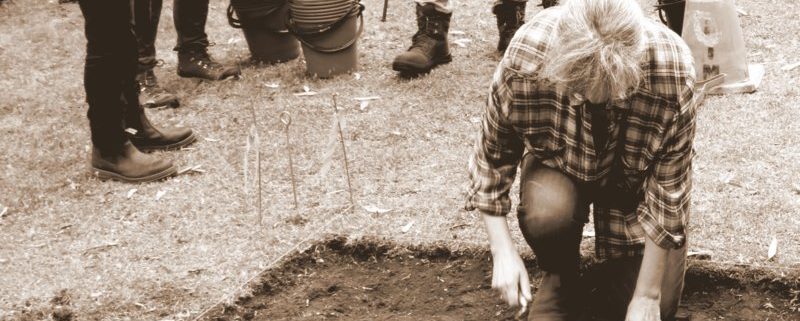 I've had the great pleasure of being involved in a different kind of 'digging' in the last few days, not research from old documents but real digging in the ground.
Dr Shane Burke from the University of Notre Dame in Perth WA has hoped for some years to do an archaeological dig in Augusta on the site of the 1830s settlement. Planning came to fruition and the dig took place last week in the area that was the property of James Woodward Turner, with many very exciting finds. Yesterday the team moved to the site of the Molloys' first five-acre grant where they built their cottage by the Blackwood River and where Georgiana lived from 1830 until 1839.
Mike and I spent the day there, observing the team at work and, along with other volunteers, helping with the excavation and sorting. I've dreamed for more than a decade of having the chance to look just below the surface in the place where Georgiana had her home and her first garden so it felt like a dream coming true. The items discovered were wide-ranging and fascinating and I even made a couple of thrilling finds myself, but all that information is for the archaeologists themselves to sort, analyse and classify now so I'll only say that my expectations were not disappointed!
The photo above shows the most magical moment of all for me, when I was invited to 'do the honours' and put the first trowel into the excavation. Not something I'll ever forget.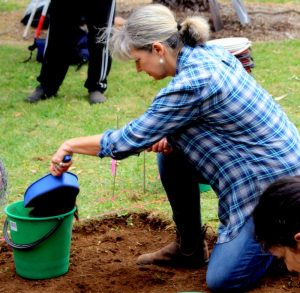 A lot of people and organisations were responsible for making the dig happen (including the AMR Shire and the Lions) but our personal thanks go to Dr Burke and to Master's student Daniel Holland who shared their time and knowledge so generously, and to the Notre Dame team and neighbours/local people who made us feel so welcome.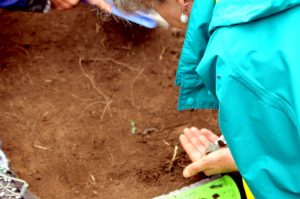 https://georgianamolloy.com/gm/wp-content/uploads/2016/12/IMG_9488.jpg
678
800
Bernice Barry
Bernice Barry
2016-12-12 15:45:09
2018-10-24 12:59:56
Digging