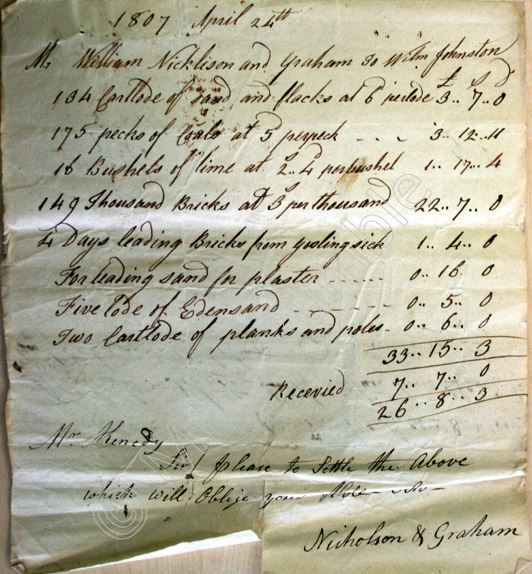 Old documents fascinate for so many different reasons. Here's an example of the way a writer's own world is almost made real again in the words used.
This builder was writing to Georgiana's father requesting payment for materials and work on the family home, Crosby Lodge, in 1807.
The amounts owing on this invoice were worked out from unit costs in 's' (shillings) and 'd' (pence or pennies). The builder recorded the materials used in pecks (just under 1 cubic meter) and bushels (4 pecks in a bushel) the same units of measurement that Georgiana would have learned to manage in her arithmetic lessons. The bricklaying sand delivered was 'Edensand' from the banks of the River Eden that flowed along the boundary of Georgiana's childhood home. There was finer sand for making plaster as well as lime for mortar or interior render. But what were those 'flacks' that were delivered? Does anyone know?
We can imagine the daily work and the scene at Crosby as the house was being built: horse-drawn carts going to and fro' along the lane many times each day: 134 cartloads of sand and, somehow, they brought in 149,000 bricks.
Words were spelled in different ways, and spelling varied, so that even this educated man wrote about 'cart lodes' and not 'loads', 'Kenedy' and not 'Kennedy' which was the usual spelling for Georgiana's family name. If the same hand wrote the whole page, there's an even more interesting difference in the spelling of the surname at the beginning and the end.
William Nicholson was a joint owner of the building firm and at the top of the page his name is 'Mr Nicklison'. I wonder if the writer was one of his workers and this spelling reveals the way that person said his employer's name. Perhaps Mr Nicholson himself then checked the invoice and signed it at the bottom  – correctly!
And the builder was particularly keen to be paid promptly. 'Sir, please to settle the above which will oblige…'
https://georgianamolloy.com/gm/wp-content/uploads/2016/01/Building-Materials-FB.jpg
574
532
Bernice Barry
Bernice Barry
2016-01-08 15:24:26
2018-10-24 12:59:58
Lodes and loads