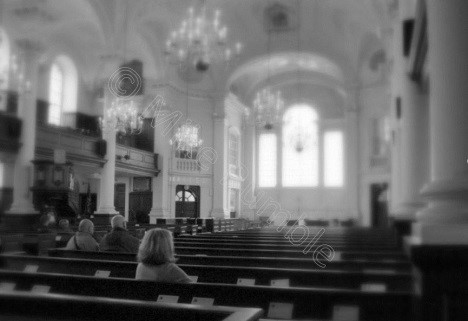 St Martin in the Fields, Trafalgar Square, London
A quiet moment in 2011, enjoying the beautiful interior of the church of St Martin, on a visit to follow in the footsteps of John Molloy. This was the day that we found the white marble font where Molloy was Christened in 1786.
John Molloy had a long life both before and after his years with Georgiana. He kept quiet about his roots and rumours persist that he was an illegitimate son of royal blood even though there's evidence that he was the son of a commoner, a tradesman living in London. My own research confirms (through interconnecting evidence from a wide range of sources) what others have suggested or concluded, that he was born in 1786 to William and Mary Molloy, an Irish couple, and baptised in St Martin's. He went to a local school, not the expensive Harrow school. His background as the son of a shoemaker in St Giles may sound ordinary but he was lucky to survive through infancy and his childhood was remarkable. It was the start of an incredible life journey that made him into the man that Georgiana Kennedy fell in love with.
https://georgianamolloy.com/gm/wp-content/uploads/2015/05/Georgiana-Molloy-Bernice-Barry-St-Martin-in-the-Fields.jpg
321
468
Redgate Consultants
Redgate Consultants
2015-05-16 11:59:59
2018-10-24 12:59:59
St Martin in the Fields, Trafalgar Square, London