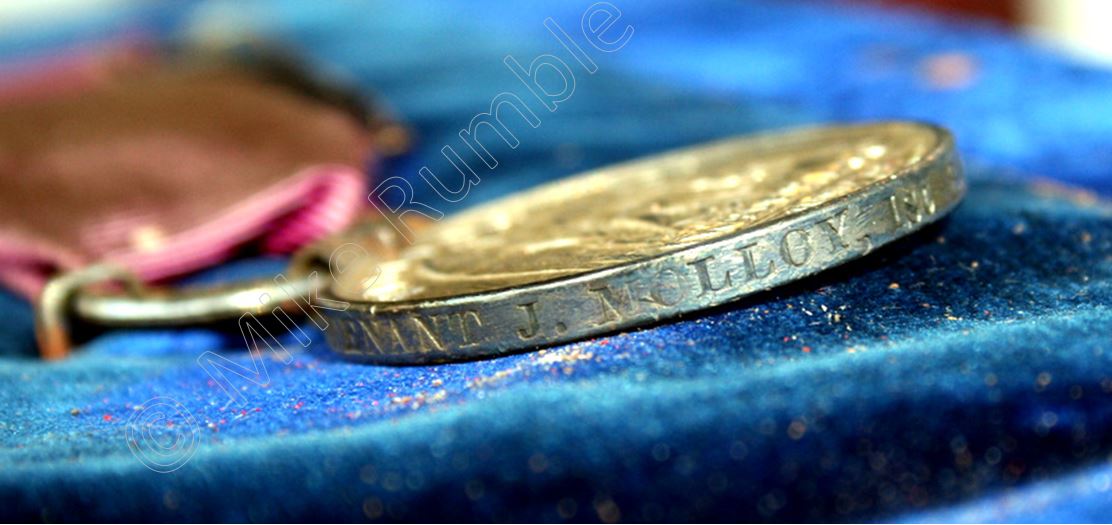 John Molloy and the Battle of Waterloo
Two hundred years ago today, 18 June 1815, John Molloy survived the Battle of Waterloo. As dusk fell, and after a day of fierce fighting near a country crossroads in Belgium, the men still left alive in his battalion were desperately trying to defend the now famous farmhouse 'La Haye Sainte'. Lieutenant Molloy was seriously wounded on the evening of that long day of 'carnage'. Between about 6pm and 8pm he was struck in the thigh by a round, lead ball from the musket of a French 'tirailleur' he saw clearly taking aim at him as he brandished his own sword. After surviving a decade of fighting in the Napoleonic wars, including years of campaigns walking across Spain, Portugal and France, he had come closer to death than ever before – in the last two hours of the last battle of the last campaign against Napoleon's forces.
Hundreds of his fellow officers didn't return home after 'the battle for modern Europe' and each year on June 18th Molloy and his family remembered 'field day at Waterloo'. He often wore his Waterloo medal, engraved with his name and rank around the edge, its bright scarlet and blue ribbon faded to a pale dusty pink by the Australian sun. It's seen clearly on his chest in the only surviving portrait of him and he wore it on the journey to Perth just days after Georgiana died.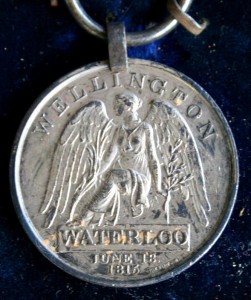 Like others involved in the many other battles before Waterloo, Molloy had to wait much longer for his Peninsular War medal, finally receiving it after making his case for deserving it, listing all the battles he'd taken part in (as was required) and travelling to Britain in 1850 where he met the Duke of Wellington, his old commanding officer, and dined with him at the annual Waterloo dinner on 18th June 1851. The clasps on the ribbon commemorate the part Molloy played at eight key battles against the French and their allies.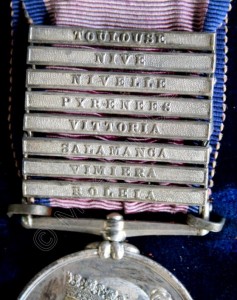 We recently had the great pleasure of seeing John Molloy's medals for the first time, thanks to the kindness and generosity of Richard Bunbury and his family who also allowed us to take photographs. There are many such medals still in circulation through auction houses and in family archives and they tell a collective history of warfare but the connection I felt on seeing John Molloy's medals and holding them was emotional not intellectual. Over several years I traced his complete military career for the first time and discovered his childhood in the navy and his youth in the militia, then followed his route across the Iberian peninsula with the 95th Regiment of Foot (1st Battalion) from camp to camp and village to village. I read every contemporary account I could find of the skirmishes and encounters his battalion were involved in, written by his fellow officers and the soldiers under their command. Such a wide range of recounts is available that a detailed picture can be pieced together of the conditions John Molloy lived through in the years before he married Georgiana Kennedy and became a settler in the far southwest of Western Australia.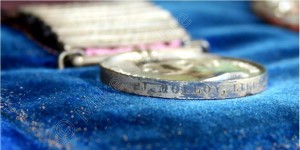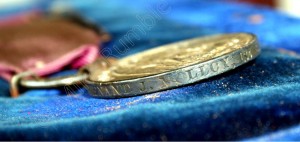 https://georgianamolloy.com/gm/wp-content/uploads/2015/06/John-Molloy-Waterloo-Medal-Edge-FB.jpg
525
1112
Bernice Barry
Bernice Barry
2015-06-18 09:25:32
2018-10-24 12:59:59
John Molloy and the Battle of Waterloo